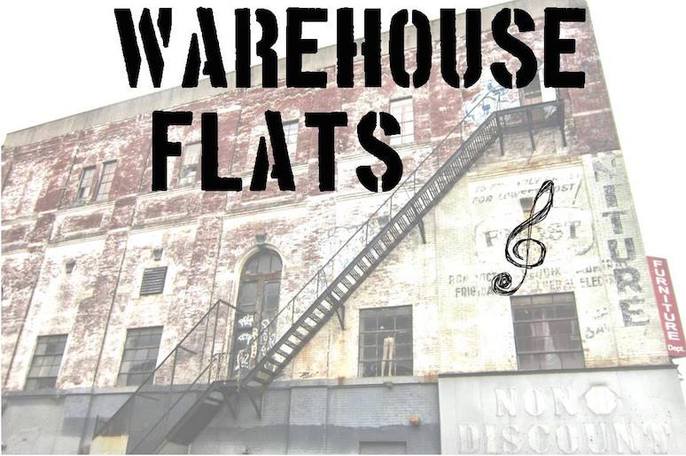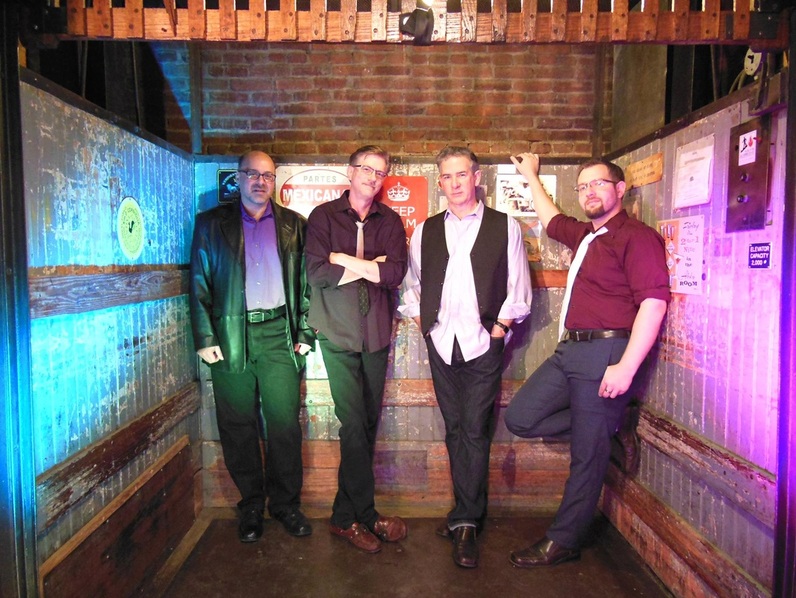 Adam Porter, Steve White, Jay Butterfield, Brett Thomas

Warehouse Flats
Steve White (bass) has sung in 5 MAD champion quartets – the MAD Hatters (2012), Touchstone (2011), Phat Cats (2004), The Bay Rum Runners (1996), and Copyright '86 (1988), and has placed in the Top 20 of international competition numerous times. He is a highly active 38-year member of the Alexandria Harmonizers Chorus, 35-year Front Row man, the current Music & Performance VP, and has earned 18 chorus international medals including 4 Golds. He is the cofounder and 15-year President of the District's Association of Quartet Champions, was inducted into the Mid=Atlantic District's Honor Chapter (DELASUSQUEHUDMAC) in 1994, and named to the MAD Hall of Honor in 2010. Steve has worked for the federal government for 35 years and is currently a senior science advisor and cancer re-search administrator. He lives in Leesburg, VA with his lovely and talented wife who is a SAI Chorus Gold Medalist a now sings in Harmony Inc. They have two hand-some sons.

Dr. Jay Butterfield (lead) has a BA Music in music performance, voice from Indiana University of PA (IUP), MA in Music performance, Choral conducting from IUP, and a Doctorate in Educational Leadership from Penn State University. He received the Music Education awarded through BHS and ENC for contributions to youth in harmony. He is the founding member and co-musical director of Parkside Harmony, Hershey PA. He has 17 years as a High School choral director with performances at state and regional MENC conferences. He has served 30 years on the faculty at BHS schools in US, Canada and abroad (BinG!, NABS). Jas is happily married to Anne, with daughter Lauren, a dentist, and son Ben, A Blue Man (really). A He is an advanced scuba diver, has a black Belt in Tae Kwon Do, and a school educator, but his greatest joy comes from harmonizing! He is a candidate Judge, Singing Master Director, and a certified District Champion quartet (two different voice parts and decades!).

Adam Porter (baritone) has been singing barbershop harmony for over 30 years and has sung with many choruses and quartets in and near his home state of New Jersey including the Livingston Dapper Dans of Harmony directed by the legendary Renee Craig while he studied computer science and music at Rutgers University. Adam was previously a founding member of the Greater Brunswick (NJ) Deans of Harmony and also of New York City's Voices Of Gotham and is currently the musical director of the now Montclair (NJ) Dapper Dans of Harmony. Some of his previous quartets have included Music Street, Midnight Run, Quatro Singo, and Hudson Chronicles. Adam is a performance engineer for a software company, an arranger, and is also a certified Music Judge for the Barbershop Harmony Society. His passions outside of barbershop include his family, the NJ shore, barbecue, antique cars, scuba, the NY Giants and the Brooklyn Nets.

Brett Thomas (Tenor) was born into the barbershop world. His Grandfather has been an active member since his birth, and got Brett started singing in the Pottstown, Pa Chorus at the age of 9. Brett now has over 20 years of barbershop experience. Through the years Brett has competed with many District level qualifying choruses and quartets. He has also been to the International level of competition several times in quartets. Brett's past quartet, Crunch Time, took 5th place bronze medal honors in the 2008 Collegiate International Quartet contest and from there the quartet went on to represent the MAD in both 2009 and 2010, placing 25th both years consecutively, and taking MAD District quartet contest Silver medal in 2010. He has also, most recently, made and International competition appearance with his previous quartet, Top Shelf.

Brett has chorus director experience as well, having directed the Pottstown, PA chorus for 3 years and is currently director for the Reading, PA chorus. He is currently an account manager for Staples Copy and Print division. He enjoys sports, particularly football (he is a die hard Philadelphia Eagles fan).

Brett resides in Reading, PA with his loving and beautiful girlfriend, Robyn, who is an enthusiastic supporter of the barbershop style and of his musical pursuits.