Harmonizers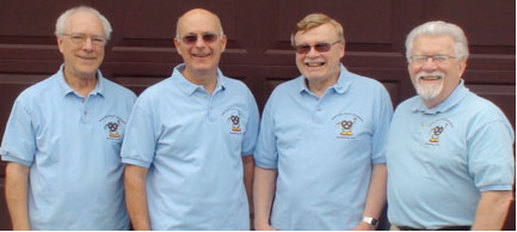 Ron Fabian, tenor, has sung barbershop for 19 years. Ron began singing in high school. He has also arranged music for the Pretzel City Chorus of which we are all members. Ron is a retired physics teacher and, when not singing, probably can't be found because he and his wife will be traveling.

Gary Mishler, lead, has been singing barbershop for the past 4 years since retiring after 36 years as a music teacher and chorus director at Twin Valley High school. Gary is currently the assistant director of the Reading Pretzel City Barbershop Chorus. He also plays trombone with several local bands.

Rod Huyett, bass, provides the foundation for our singing. A now retired engineer Rod has been singing with the Pretzel City Chorus for 27 years. Prior to his career as an engineer he toured the Far East with a big band for 8 months playing a trombone.

Bill Baldwin, baritone, is a 21-year barbershopper. He sang with one of the Pretzel City Chorus quartets, Never Too Late, for 16 years. He holds a dual membership with the Reading chapter and the Coudersport chapter in Potter County where he also sings in a quartet, Four Awhile. He and his wife have 3 children, 8 grandchildren and 4 great-grandchildren. And he still has all his hair.